MAYDAY HAS RETURNED!
On Monday 2nd May 2022, the Mayday shoot is back!
Although in a more limited form, we are excited to be able to return this traditional shoot to the Norfolk Archery Calendar.
The aim of the shoot is for everyone to come and have some fun, so there is no Record Status, but there will be TRI BOW!
The shoot is going to consist of three Warwick rounds over the day, and we'd encourage as many people as possible to enter the tri-bow for maximum fun!
First Session will begin at 10am, second session at 1pm and final session at 3.30pm.
Entry is £5 per session, or £12 if you enter the day as Tri-Bow (use code TRI-BOW on the "View Selections" page on the booking site).
Rounds will be the Warwick for Adults and the Junior Warwick for U18's.
There will be Judges. There will be cake.
It is Fakenham…. there will be weather!
Entry is now open – Click Here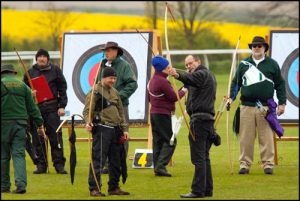 MAYDAY SHOOT – RECORD STATUS
The first Bank holiday weekend in May comprising a Longbow shoot and Record Status Warwick Tournament on the Sunday followed by Record Status St. George, Albion and Windsors on the Bank Holiday Monday.
SHOOT INFORMATION 2020

The 2020 shoot will be held on the 2nd & 3rd May as follows:

·       Sat 2nd May (am) – Longbow Tournament

·       Sat 2nd May (pm) – Warwick Tournament

·       Sun 3rd May (all day) – Mayday Tournament (St. George, Albion & Windsor rounds)

TOURNAMENT ORGANISER

Elaine Burbidge 01328 851848 or email mayday@fakenhambowmen.org.uk

PAST RESULTS

2017 – Longbow

2017 – Mayday

2016 – Longbow

2016 – Mayday

2015 2014 2013 2012 2011 2010 2009 2008 2007 2006 2005 2004 2003 2002 2001 2000

DATA PROTECTION

When you enter competitions the following information may be collected and shared with tournament organisers, scoring systems and other competitors by publicised documents (target lists, results etc): First Name, Surname, Gender, Bow style, Date of Birth / Age category, Email, Address, Phone number, Club (and ID), County (and ID), Region (and ID), Round (unless defined by age), Disabled (Y/N), Disability info.